About us
I am Pascalle Ruperti, my introduction to dogs goes back 35 years. Growing up in Amsterdam, as a child my first dog buddy was an x- bouvier, later followed by a rottweiler, with whom I felt safer on the streets and in the subway.
A Rottweiler was followed by a Fila Brasileiro, a breed then, but also now quite unknown with a character you have to learn to deal with. With the Fila Brasileiro I discovered the dog sport, IGP with a Fila, many declared me crazy. In the end it was thanks to this dog that I became sold on the dog sport. So the Malinois came into my life, the ideal dog for programs like IGP and other dog sports.
I lived for more than 10 years on the Greek Island of Kos, where in addition to my normal work, I ran a dog school and dog boarding center for the locals. Here you come into contact with many different breeds, people where every dog has its own character. Giving group but also individual lessons I did with great success and pleasure.
Besides a 2 Fila Brasileiro's I also had 2 Malinois Shepherds that I bred with. In Greece I laid the foundation for dog training and training.
> 35 years of experience in training dogs for various purposes
Long experience in breeding Fila Brasiliero and Malinois, among others.
Dogs trained in different types of dog sports, IGP (IPO) KNPV, Mondioring, Belgian Ring fieldwork, Globalring, Reality etc..
From Greece, briefly back to Holland and not much later to Belgium.
In Destelbergen (Ghent) I continued with the hobby of breeding the Fila Brasileiro, Malinois Shepherd and training dogs.
With my Malinois Shepherd Femme Fatale de Sol Casa (Kiki) I started KNPV. There where many trainers stick to 1 program, I have besides KNPV PH-1 also achieved IPO 3, Mondioring 1, Belgian Ring Fieldwork cat. 2 and some competitions in the Global ring.
My son Angelo passed the Brevet obedience with her at age 9 (2017) when Kiki was 11 (95/100) points.

This shows that a dog can be trained in multiple disciplines, from bite work to obedience.
Following his exam at age 9, the KUSH in Belgium quickly raised the age for being able to participate in obedience to 14. Angelo, now 14 (2022) plays, with his self-trained Malinois shepherd Beast, obedience and has since won his first place in an obedience competition.
With the Fila Brasileiro's I have successfully participated in dog shows (World Champion Fila Brasileiro Male 2012). For our puppy owners, we regularly organized hiking weekends in the Ardennes, where the dogs could run loose. This requires good obedience and especially the ability to read dogs. Small things can indicate something and a correction with the voice is enough to solve the problem.
From my own pack I have and still am learning the behavior of the dogs among themselves, the Alpha Male and Female, how they interact with other dogs, learning to read a dog, their behavior and being able to intervene in time before it is too late.
However, the road to my experience was not easy. In dog sports, most practitioners are extremely loyal to their own discipline. If you do KNPV then another discipline like IGP is not done. If you do a bite sport people quickly assume that the dog is not suitable for obedience. In fact some people do not want to train with you because you are "cheating" or say the dog is not suitable. Nevertheless, I continue this to this day and train my dogs in multiple disciplines.
The reason is simple, from each discipline I have learned something, found ideas and solutions how to deal with a specific dog and its character.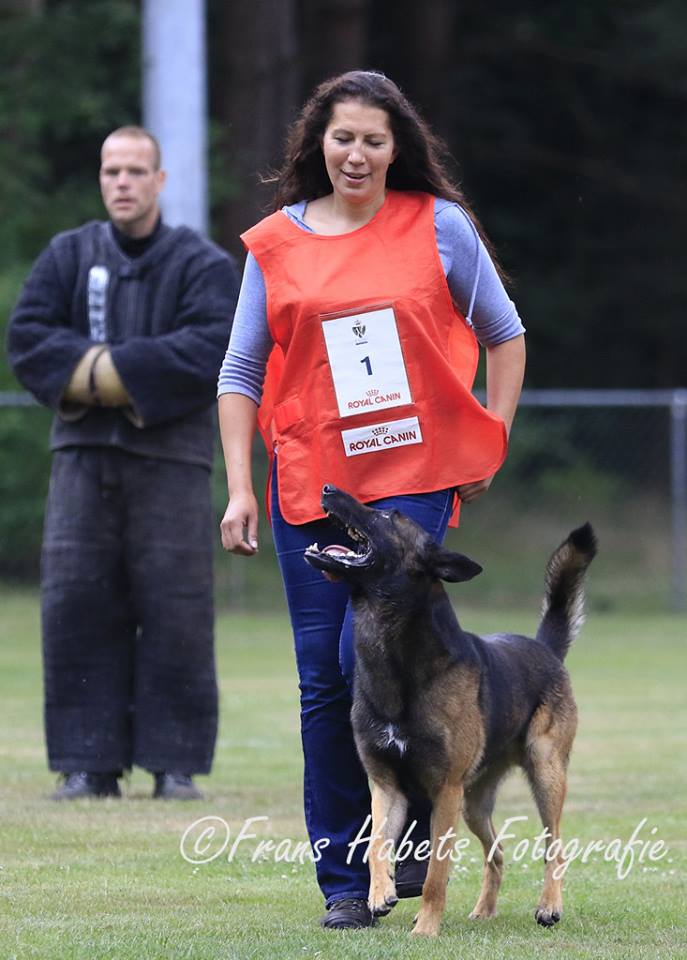 Fortunately, there are still many enthusiasts in dog sports who are positively engaged. What I have learned from all these people is that although there is a basic method for training behavior, every dog is unique and you can get the most out of a dog with knowledge and experience.

In dog sports, especially the bite work disciplines, dogs are in high drive and it is often a challenge to control that drive and turn it into the desired behavior. I use that experience, combined with my other knowledge, in dog training for others.
I started the DSC-K9 Academy out of a passion to help people. Helping with simple problems, pulling on the leash, not coming here, to aggressive behavior towards other people and animals. We offer owners who are no longer welcome at a "normal" dog school the opportunity to train in groups.
I myself also breed and train dogs for government and security agencies worldwide. From that knowledge you now have the possibility to train your dog. detection(search) or tracking to learn.
The techniques and methods we use in our training are the same ones we use to teach dogs to search for people, money, narcotics, explosives and other substances.
I owe my knowledge to many people in the dog world who want to bring out the best in their dogs. People who are open to learning themselves, taking you to a higher level together. With more than 35 years of practical experience with different dog breeds (and people), different characters, a dog pack of my own, I am able to solve problems and bring you to a higher level.
Read more about my methods
Individual counseling
We begin with a 1 on 1 training session with you and your dog and look at which method is most appropriate.
Bootcamp
You are at a loss for words ?
In a boot camp, your dog stays with us for 1-2 weeks and we work towards the desired behavior.

Small group classes
Small groups of 2-6 people where you train with others.