Bootcamp - Reinstatement Rex
Crossbreed Malinois shepherd x Weimaraner 1 year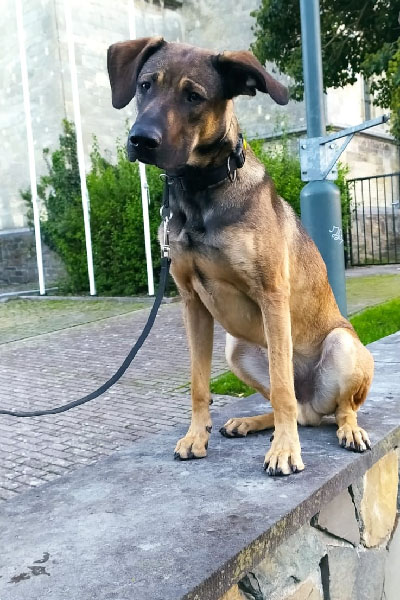 *Update: Rex works as a detection dog in France at airports.
Rex a 1-year-old cross Malinois x Weimaraner who came to us through an acquaintance. Rex lived in a family with 4 children ages 3 to 13. Unfortunately, things were not going well with this family and they were at a loss.
We received a letter with information about Rex and also the problems people were experiencing.
If he sees a cat or other animals he is unstoppable, if he is loose you can't get him back easily. In the woods he can't run loose either.
Rex also has a thing with cars he doesn't always but often wants to jump at them (dangerous with roadside walks).
Rex is a busy, stubborn inquisitive and very dominant dog. Often he can be very sweet to children but he can also start growling at them out of the blue.
At the moment, I am number 1 in the pack and Rex thinks he is number 2 and the rest come after that.
When I am frolicking with the dog or when he comes to lie with me, the rest of the family is not allowed. He shows this by growling and showing his teeth.
If Rex does not like something (petting, cleaning paws, taking something out of his mouth that he should not have) he will growl and if you continue then he will lash out.
Sometimes nothing is wrong and other times in the same situation he growls.
If Rex has been given food in his bowl he does not like it when you come near him.
But if you put food in his bowl and hold the bowl in your hand there is nothing wrong.
Dog cookies you can just give him. All the children also make him sit, lie down and stay and then give him a dog cookie as a reward.
If we didn't have children Rex would definitely have stayed.
Again, Rex is a wonderful dog in most 95% cases, but because he is so dominant and can get angry out of nowhere, it is better for the safety of our children that he goes elsewhere.
The above is part of the story we got with Rex. We are glad that this family wanted to give Rex a 2nd chance, in many other cases the choice is made to put him down if the dog shows the above behavior and might have already bitten once.
.
Bootcamp
A quick solution
for your problem
Every day we work on the problem individually, in a group or with 1 of our dogs.
Your dog will be taken out of his environment, away from you, with which we break the vicious cycle for both you and the dog.
Problems and Solutions
Rex arrived here in our van. It took a few hours for him to get out of the car. With some treats, it finally worked out. We put Rex together with a young German shepherd female that he could play with right away. The first few days we let him get used to his new surroundings, to us and our pack. He is now outside during the day with a 7-month-old German shepherd bitch and male dog.
We see that Rex is actually not that dominant at all but rather somewhat insecure. Towards us in the beginning he also showed similar behavior, lip raising, snapping but eventually he adapted very well (we know much worse cases).
Rex is a combination of Malinois and Weimaraner, a shepherd x hound mix. Rex has a lot of energy, likes to work, works a lot with his nose and we understood from the previous owner that he liked to do search games.
Rex also loves food and with this we can reward him during training.
We think Rex has the potential to become a good detection dog. In our K-9 Academy We train dogs for detection and tracking. With Rex we started training him for detection with the goal that he can have a bright future with the police.
In addition to training detection dog, we work with Rex on his obedience, taking him out on the street, traffic, the market, other people. In our classes with other dogs Rex trains with us so that he also has to learn to listen between other dogs (loose). Rex is a fun and fast learner and we see him growing and changing day by day.
Does the above appeal to YOU, then maybe a boot camp is for your dog.
Feel free to contact at to discuss whether boot camp is for you.
Just resting and breaking vicious cycle.
It is not possible for YOU to attend dog training with us every week
(distance, time).

Previous "professional" help brought no results.